Tonight on Big Brother, only 7 HMs remain in the house, with the newbies holding a stronger position now with majority. 
BB invites the HM's to his Diner – where this will be a meal to remember – burgers, fries and milkshakes. Once HMs tuck in, BB announces it's time for dessert and he names the lunch – 'Burgers and Bombshells'. The dessert menu offers a range of tantalising video packages of various moments in the house. The HM's must decide what  they wish to see and what could be put in hot water.
First, they choose 'Fruity Stratlova' and see Tim and Aleisha's secret KFC mission!
Next, they choose 'Decadent Deal' where Estelle sends Reggie to the laundry to hide in the scramble. Sneaky Date Pudding is next and it's Johnson and Tim coming together and shaking on a top 10 deal.
Estelle and Reggie are angry at Tim and Aleisha is mad at Johnson. Previous alliances are now on shaky ground and Aleisha takes it up with Johnson. Estelle keeps going at Tim and is outraged that he hid the deal from her. Tim ends up frustrated and takes out a 'no talking to Estelle policy' for the rest of the day. Estelle now turns to Taras as a possible ally, and wonders if she can trust him not to put her up.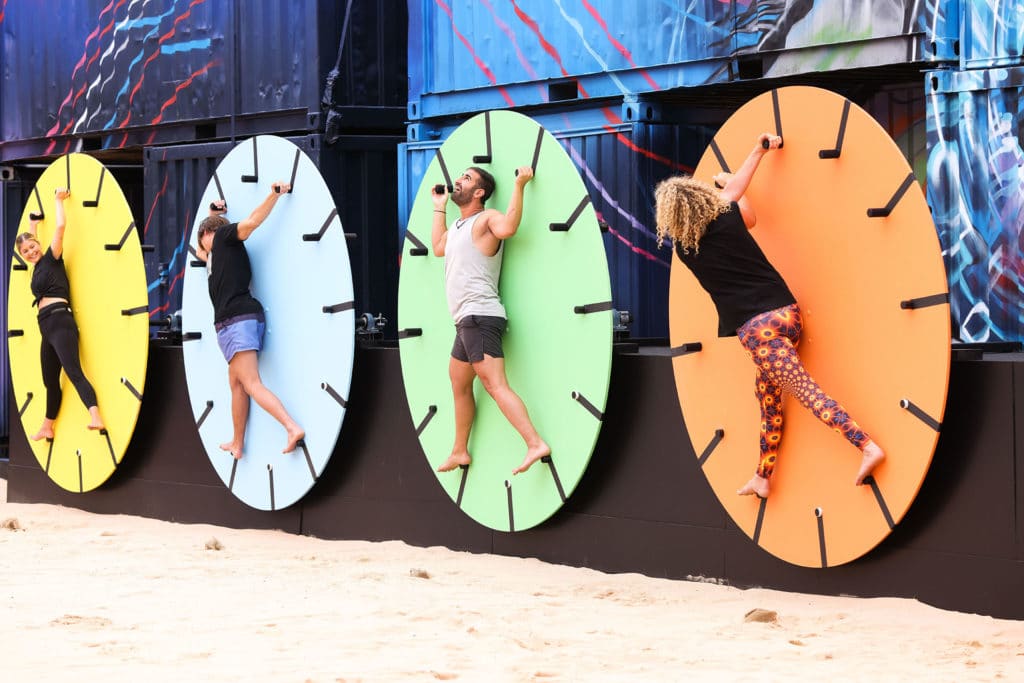 Noms challenge – HMs must stand barefoot on the huge disc, using just their hands and feet to grip onto the tiny pegs. Their goal is to stay up for as long as possible. Estelle and Taras are left to battle it out. While they discuss a possible deal, they don't get a chance to close it before Estelle comes off. Taras wins his 6th challenge and is safe from eviction and will choose the three nominees.
In the diary room, BB asks Taras if he has a deal with Estelle tonight. He says the deal is void in his eyes. Taras is voting due to vengeance and nominates Tim, Reggie and Estelle.  Estelle can NOT believe it and says, 'you lied to me' whereas Taras responds with 'yep'.  
Reggie doesn't seem to be in danger, but Tim and Estelle go to work trying to drum up support for themselves with the newbies. Reggie, Tim and Estelle have a final group hug and chat, as Reggie is in tears that she might be leaving the house tonight. Tim and Estelle hug it out and make peace – is this the end of the OGs?
With 4 votes, it is time for Estelle to go but in a dramatic twist, BB tells them that it's a double eviction, which brings Reggie to tears and panic to Tim's face!
Aleisha, Brenton, Taras and Johnson must vote again for the second time tonight as either Tim or Reggie will be leaving alongside Estelle. In a shock eviction, it's Reggie who leaves the Big Brother as the second evictee tonight.
As Reggie wheels her luggage out of the House for the final time, Big Brother drops a massive bombshell – the door opens to Big Brother's Arcade, and Reggie walks in to see Estelle waiting. They both remain in the game for now.